With the days drawing closer and closer to our intended visit to the orphanage (3rd January), I can't help but to feel a sense of excitement. After
my previous post on this Charity Drive
(Parts
3
,
2
, and
1
here) I called up Aleksei, the said Manager of Advertising Department of Evropa Convenient shop, asked about his progress and perhaps any updates regarding their sponsorship of our trip. Using my Russian Prowess (ah-hem!), I asked whether the higher ups agreed to it. He said 'yes', to which I immediately leapt with joy!
I felt a huge load lifted from my chest, and I finally can unclench my eye brows. We made an arrangement to visit the said orphanage first, to make a survey on the things that they need most, be it clothes, items, equipments, etc.
Today afternoon, he drove me and Marina to the orphanage. By first view, the place looked like any typical rural Russian establishment. Slightly run down, in need of a sprucing up, maybe some paints. And for a moment I was stuck with this morbid fear, thinking that the condition in there would be worst off that I had imagined.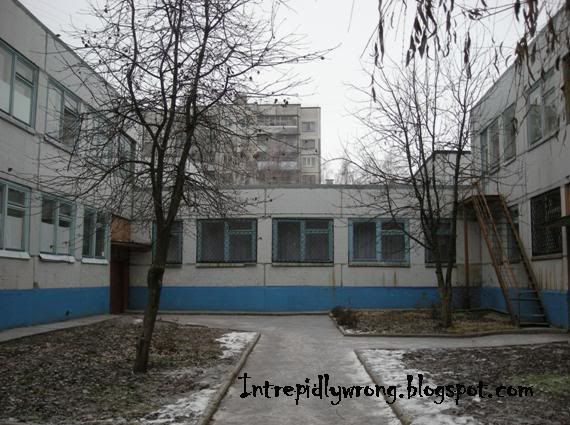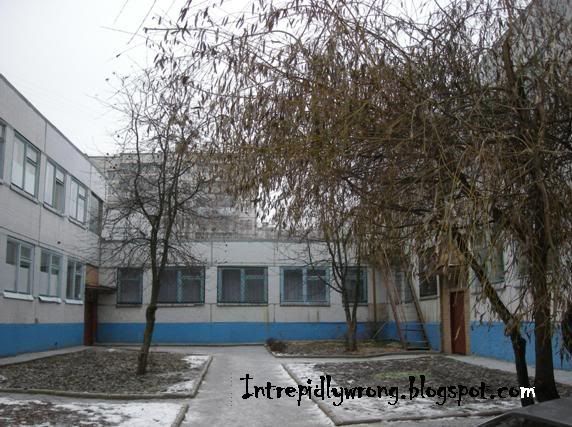 And yet, upon our entrance- I was slightly taken by surprise. The walls weren't peeling, the children seem happy, and they had all the basic necessities that they needed. Once more, I breathed a huge sigh of relief. Somehow I had the worst case scenario pictures in my mind.
The caretakers were happy to meet us. In the meeting, we were informed that thanks to contributions from various individuals; the children have enough to wear, to eat and to have. The only thing that they lack would probably be sports items like shoes, racquets, basketballs, volleyballs, footballs, skipping ropes et cetera.
We were later shown the performance hall and gymnasium that they had in the establishment. Small but comfortable.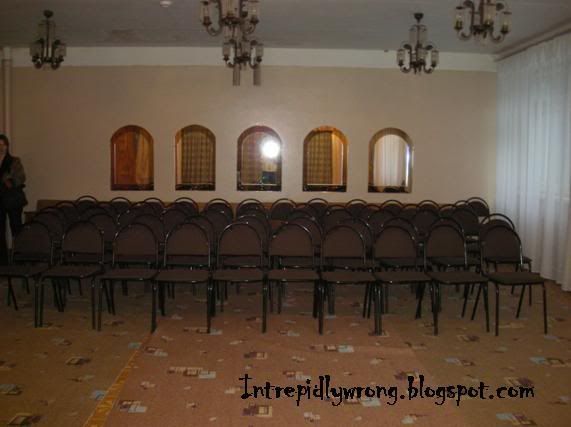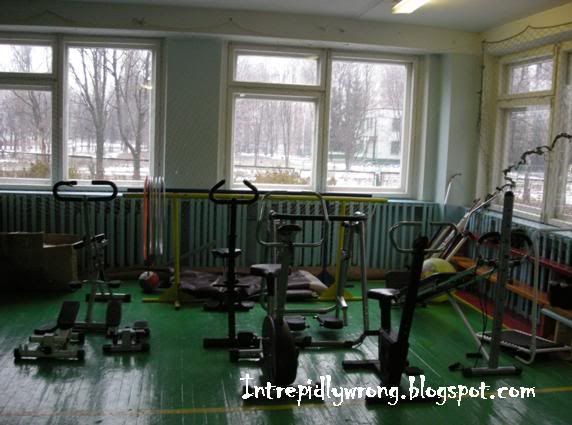 During that visit itself, Aleksei had brought some clothes that he had collected from various sources, but seeing that they weren't needed here, he repacked them and will be giving them to another orphanage in another part of the city.
I would describe the visit as extremely productive. The caretakers from the orphanage finally told us that they will all be looking forward to our visit before we bade each other farewell.
On the way back, Marina, me and Aleksei basically had a hearty conversation, about me coming to Russia to study, my life here, before the topic of the conversation shifted to him, Aleksei, the seemingly regal and extremely established manager of one department in a multimillion company. His story blew both me and Marina away.
Apparently, for the past 2 years, he had been collecting unused clothes and other sorts of donation with his own initiative, and presenting them to orphanges around Kursk. It wasn't until recently that someone in the higher ups caught wind of his charitable work, before deciding to chip in and sponsor his visits. It turns out, he himself was raised as an orphan, with no parents and no other means of financial backing, he taught himself whatever he needed to know, and started working odd jobs at a very young age. He now has a comfortable life, a 5-figure (Rubles) paying job, a car, a nice apartment, and he has never forgotten his root, doing whatever he came to repay the kindness to the orphanages where he was raised.
And then came the next question- how old are you?
Turns out, he is 22 this year.
In case you don't know by now, I am 22 this year too. Needless to say, it blew us away. I've read about and heard of many rags to riches stories in my time, this one I must say top them all.
So anyway, the visit to the orphanage wasn't only productive, I gained myself a friend on the way back. I think his story is definitely compelling and thought-provoking enough to deserve a spot in our
Christian Newsletter
, what do you think?
Anyway, for this upcoming I already had pretty much a power-packed performance figured out. I will be inviting some friends to do some performance during the day itself, an indian dance, a chinese dance, and I remembered one friend who performed ngajat previously, which seems fitting for this event too.
Currently we're still collecting clothes, making christmas cards and so forth to still raise whatever money we can manage. Hopefully this will turn out to be the success that I prayed and hoped it to be.