Finally, the day arrived- the day that we will be visiting the orphanage at Prospekt Druzhberi here in Kursk, Russia. For us, after a few months of hard work and planning for our Winter Charity Drive, this visit is like the pinacle to all our vision. Even during the whole drive, every student who were a part of it felt blessed, and this visit to the orphanage would definitely be like the cherry topping on the black forrest cake that we've already loved so much.
(read previous posts to this series to find out about our charity drive-
Parts 5
,
4
,
3 here
,
2
and
1 here
)
So anyway, what are Malaysian students in Russia to do when surrounded by a group of Russian children? We smile with them, we laugh with them, we play with them and we have fun together. And that was exactly what we did!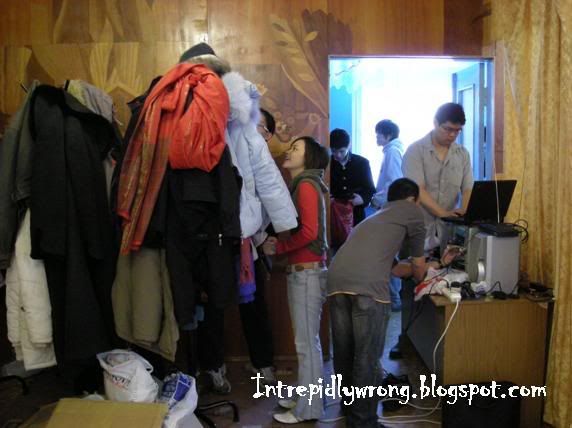 Qi Jie and Johnny in charged of the PA system
The event started off with me, the MC of the day, wishing everybody a Happy New Year, the hall was full of audience; children, workers at the home, and foreign students alike watch in excitement as we deliver one great performance after another.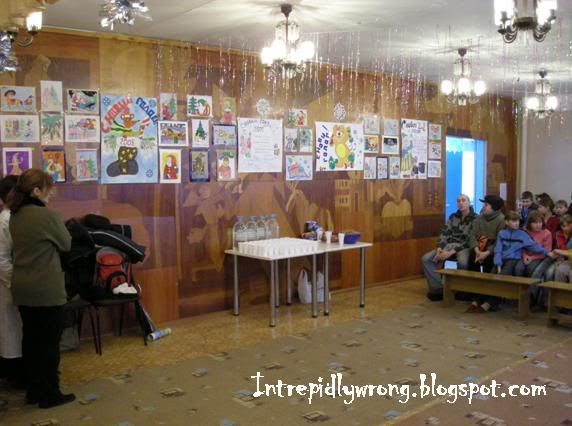 The children at the orphanage awaiting the performance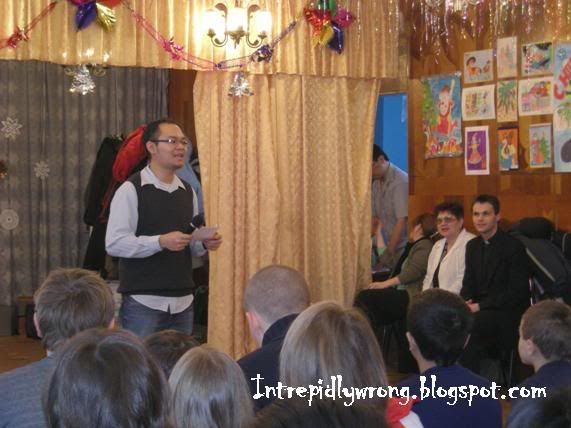 Me emceeing po-russki (Russian Language)
The full programme listing was as follow:
1. Diana's Solo Performance- Shen Qi
2. Sandhun's Indian Dance-
3. Chinese Martial Art and Dance Performance-
Jason performs his martial arts and nunchucks performance in this clip. Russians, especially young children, are typically very interested in the Chinese Martial Arts, and idolize movie stars like Bruce Lee and Jacky Chan.
http://rapidshare.com/files/81049480/2._Martial_Arts_Performance.AVI.html
Titus, my roommate, started off with a wushu performance, followed by Bernard and Lawrence's Taichi, then ended with Nate's amazing Wushu display.
This is definitely a clip worth watching.
http://rapidshare.com/files/81051880/3._Chinese_Dance_Performance.AVI.html
Benedict and Benjamin choreographed
this dance performance
which features them dancing to a medley of Jay Chow's songs. It was power-packed and received perhaps the loudest cheers yet.
4. Sumazau and Ngajat Traditional Performance-
http://rapidshare.com/files/81059012/4._Traditional_Sumazau_Dance.AVI.html
5. Danielle and Sandhun's Latin Dance-
http://rapidshare.com/files/81062372/6._Latin_Dance.AVI.html
I must say that every performance was extremely extraordinary. The children were clapping and dancing along to the performances, and when they finished, they all cheered enthusiastically. I myself cannot thank all the performers enough. They are all close friends of mine who all did me a huge favour and I owe them a big one. Some people, like Diana and Jason, agreed even when I approached them last minute (to be precise, the day before the visit!). And some others, like Danielle, has never yet in her life performed in front of a crowd. Others like Sandhun was having a fever and a difficult examination looming around the corner, and people like Benedict and Emilyn agreeing to perform without even a second of hesitation. In short, the trip was a success largely due to their contribution.
http://rapidshare.com/files/81060083/8._Games_Clip_2.AVI.html
After the dances and songs were done, I handed the mike to Mex for the games. It was hilarious! From the moment he took the stage, we were all on stitches, laughing our hearts out.
And the children were very keen to take part in them too. Needless to say, we were never short of volunteers from the crowd.
After the games were done, Danielle, Mex, Charmaine, Roberto and Emilyn performed the 'welcome clap' routine for the children. And this was another crowd favourite. It was also my first time learning so my attention was on them the whole time.
http://rapidshare.com/files/81047597/12._Father_John___Russian_Santa_Claus.AVI.html
After the games, I handed the mike to Father John.
In this clip
, he wished the children Happy New Year and explained that we, Malaysian medical students here in Kursk, Russia, started a charity drive for them, raising funds by offering to cut hair, selling cookies, christmas cards and others for them. He asked, 'do you wish them to pay you a visit again in the future?' They all answered, 'yes, of course!'. Saint Nicholas, or more popularly known as Santa Claus, made an appearance here with his angel too.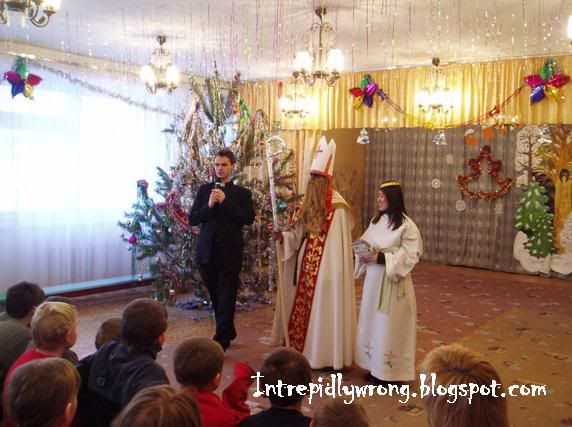 For each of the children we bought New Year cards of various designs, which were distributed to them. The sport items, cardboard games and other collected items for donation were also handed over to the head of the children home.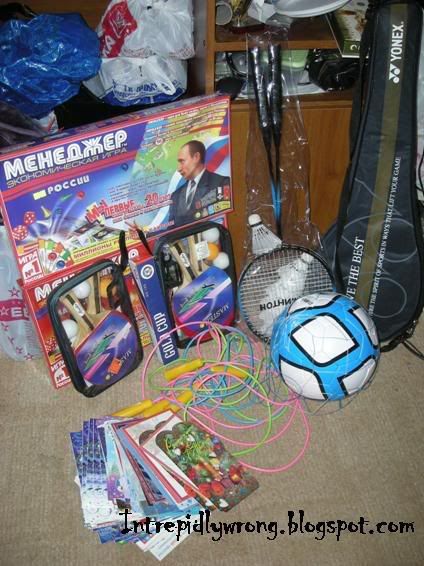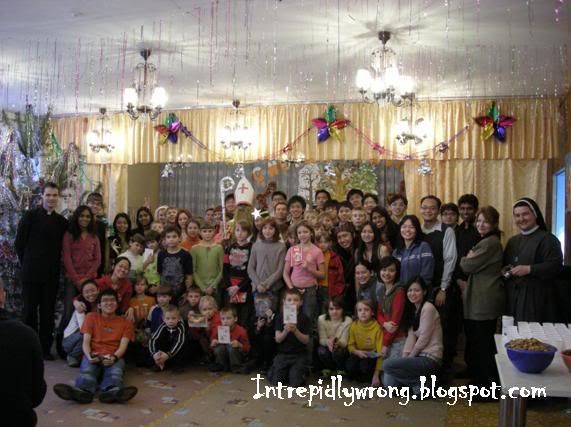 Group Photo
All and all, it was a pretty amazing experience. Even right now, 12 hours after the event ended, I am still smiling fondly of the experience. We all worked hard, and prayed even harder, for this to be a success and it did. Everyone left feeling happy and with a smile on their face. That was more than what we could have wished for.
After buying drinks and some refreshments for the event, we were left exactly with 70 rubles leftover. Right now me and Jane are discussing the possibility to make this a constant thing, and perhaps, just perhaps, with God's blessing of course, we will be organizing another trip in the nearest future. Hopefully that one will be just as successful as, if not more than, this trip.
Thanks to all of you for your prayer, your support, your contribution and your help in making Christmas Charity Drive a success!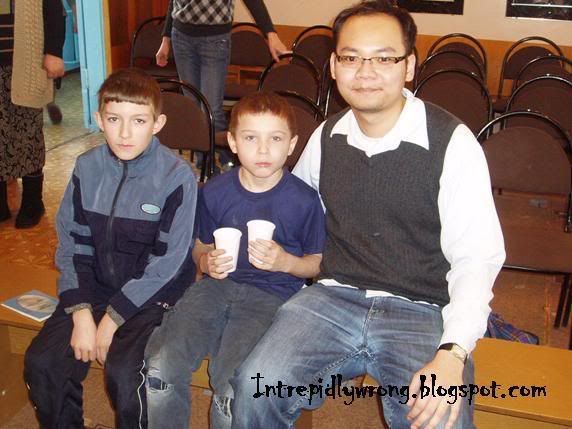 ===End to Christmas Charity Drive 2007/08 Series===