-The following scenes may contain grotesque and violent images and is not suitable for viewing of people who lack a sense of humour. Viewer disgression is adviced-
(Continuation from previous posts,
here
and
here
).
Days after we searched around
Eddy
and Teo's room for that unholy presence, we are still unsuccessful in the mouse hunt saga. More packets of precious instant noodles being ravaged and more sleepless nighs later, the rat has still eluded capture.
The worst thing is, it does seem to get braver and braver by the day. Just yesterday morning, in broad daylight, he decided to show up, of all places, on Teo's table, visibly scurrying around for all to see, as tough teasing us! How dare he!
Now, both of them are forced to relocate tonnes of their stuffs, to prevent more items falling victim to the rat.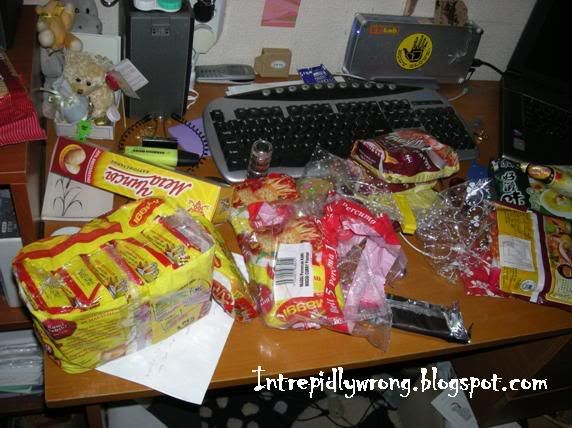 Teo finally decided he has had enough, and kicked it up a notch, when previously he tried his best to
capture
it, now he's seeking to
DESTROY
it! Here you can see him setting up some traps, what seems like colourful and delicious pieces of biscuits... in all actuality... are POISONS!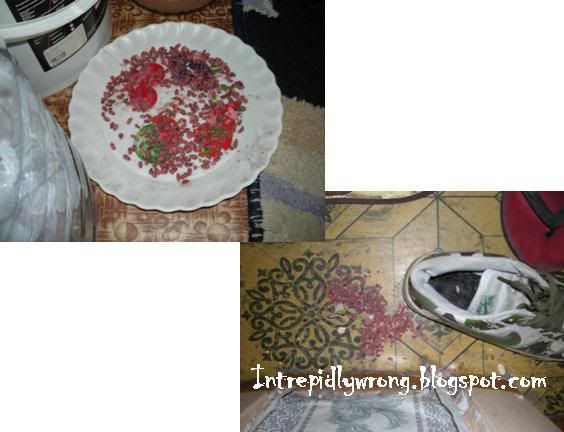 Previously, Choc Ky said he heard the sounds of scratching in Eddy's cupboards. A thorough searching later, I stumbled upon this-
A hole in between the inbuilt cupboard and the wall...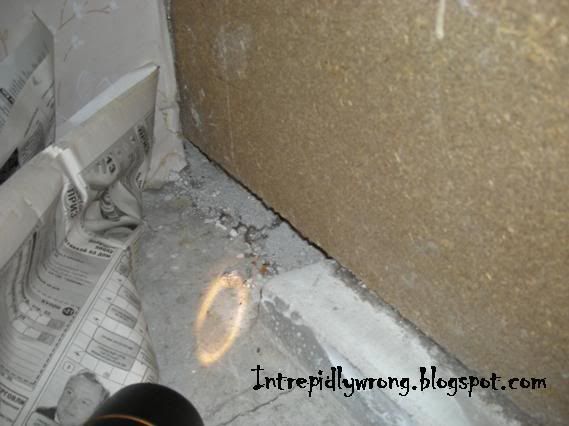 The rat's safe haven!
Now that we know where he hides, we can finally concentrate all efforts of trapping him. A few initial ideas include this-
1. Crack Eddy's cupboard open, demolishing it totally to catch it!
2. Spray some insect repellent, or toilet fresheners into the hole until he suffocates and dies!
3. Teo suggested turning on the vacuum cleaner, and by the action of suction, suck the rat into the vacuum cleaner!
But after we contacted a few seniors, Raymond (
Ingrid's
hubby) came up with what seems like a fool-proof idea, a home made mouse trap.
So ever wondered what goes into making a mouse trap? All you need is one bottle of any kind, a few pieces of biscuit and a pen-knife.
1. Cut a small hole, about the size of the rat, at the bottom on one side of the bottle/plastic container.
2. Place a piece of biscuit in it.
Remember the
Gingerbread people post I did a few days ago
? As if I haven't tortured them enough, Teo plucked the hand off one Gingerbread man to use as the mouse bait!
The principle is this.
The rat, having smelt the unmistakable aroma that is the arm of Mr Gingy the gingerbread man, will be pulled towards the bottle.
When he's busy eating his meal/bait, push the bottle down and trap him inside!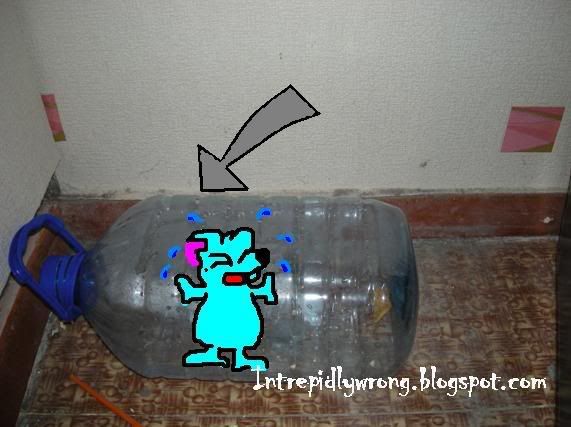 Of course, we were ecstatic to hear the idea, and it took near to nothing to produce the home-made trap. The only catch is having to actually sit- and wait it out- for the rodent to make his appearance!
Poor Raymond, he sat there, in total silence and inanimation for nearly an hour!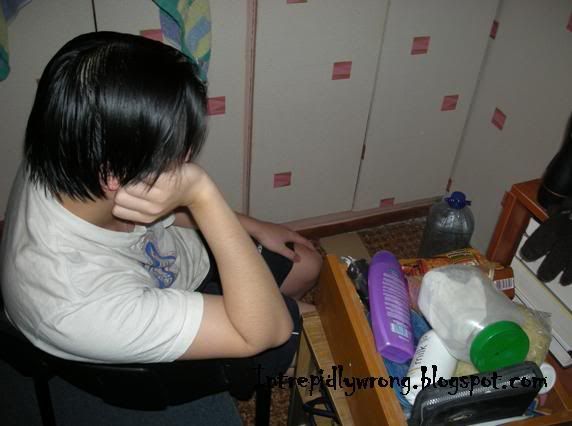 At the end, we surrounded the escape route of the mouse with some medical books, the most convenient thing to medical students like us. I think the publishers of Frank Netter's Atlas of Anatomy and Guyton & Hall's Textbook of Medical Physiology would be damn proud to see the multi-functionality of their books!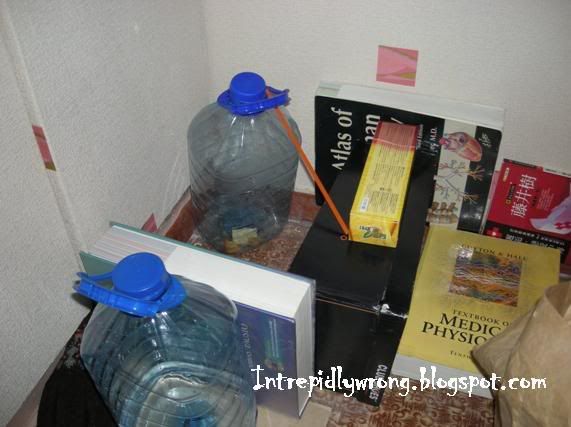 Alas, the rat escaped to bring more chaos and discord, and wreak more havoc, and unleash more vileness unto the poor inhabitants of room 311...