When I found out the topic for photohunt this week was 'Free', I Immediately thought of the word Freedom and of its importance.
This past winter holiday during my time in Prague, I was lucky enough to visit the infamous John Lennon wall, which is a wall displaying messages of love and peace. This is an important symbol of freedom, especially drung the Communist regime in Czech Republic not so long ago. After John Lennon's death in the 80's, his fans gathered around this wall and scribbled down messages of love and peace, and slowly it caught on. In days the wall was full of these messages.
Of course, being under a socialist regime this sort of thing cannot be tolerated, so much so that police guards were hired to keep watch on the wall to ensure that nobody does it.
In the end, it was reported that up to thousands of people were jailed for this offense. In fact, there was a huge clash amongst the students and the police over this fight for freedom, which was reported all around the world.
Therefore, I can only appreciate the meaning of freedom more, standing so close to this piece of historical monument. And cannot thank our forefathers enough for their battle for our freedom.
Anyway, like any other persons would, I left my message of peace and freedom on the wall too-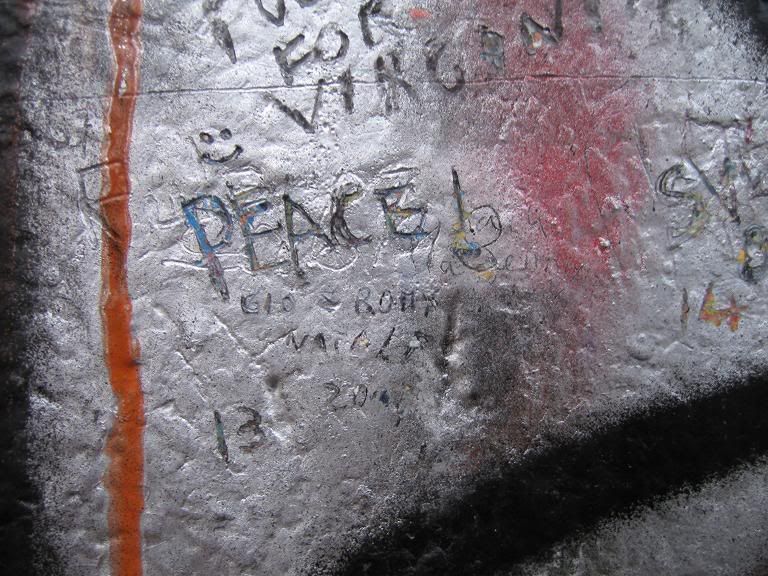 Also, we noticed a cigarette hanging from the lips of the bust of John Lennon. Being the sport that we are, I hoisted Kenny up on my back and we lit the cigarette up for the guy. We thought it was the least we could do for the guy...
*warnings- boxer alert!*