A month into our charity drive (Parts
1
and
2
here), we are still trying our best to do whatever we can to make sure this drive ends up a success.
We only have a few weeks left before the day of our orphanage visit. Like I said, when we found out last week that there were FIFTY orphans in the orphanage, I was sent into somewhat of a mini panic attack. The next day, I rang up Marina, an acquaintance here in Kursk, to help me get hold of some sponsors.
We headed to
Evropa
(Picture courtesy of Johnny), a very successful convenient store in town which has approximately 20 brances situated in different areas of the town. I didn't know what to expect, and just prayed that something would come out of this meeting.
We were whisked off to a heavily-secured back area, where the main office of the bulding was located. There, we were asked to wait for the assitant, who then refered us to a guy, Aleksei, who apparently was in-charged of the charity department of Evropa Department Store. For the love of God I never knew that Evropa would have a department tending to just charity works. But they did. The meeting was productive, Aleksei said they have frequent visits to one of the orphanage, where they distribute gifts amongst other things. He was happy that foreign students would initiate something like this for the children of Kursk. He promised to call back but...
That was one week ago. Still no phone calls from him. You can detect a slight panic in my tone now. I, for one, am a firm believer that you should always trust people unless proven otherwise. I still believe that this deal will work, and tomorrow we're meeting him again to finalize the sponsorship plans. If not, I may just need to approach another department store, then another one, then another one, until finally a door opens up.
But anyway, enough with that. Even if we did have that sponsorship, we will not and could not have just threw away all our efforts, so we sold more cookies!
Ever thought of what goes into preparing and baking butter cookies?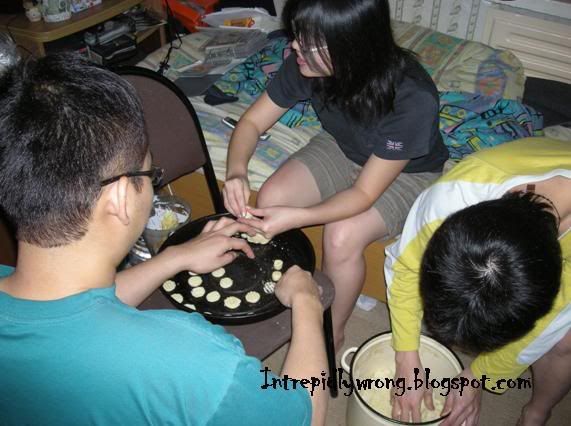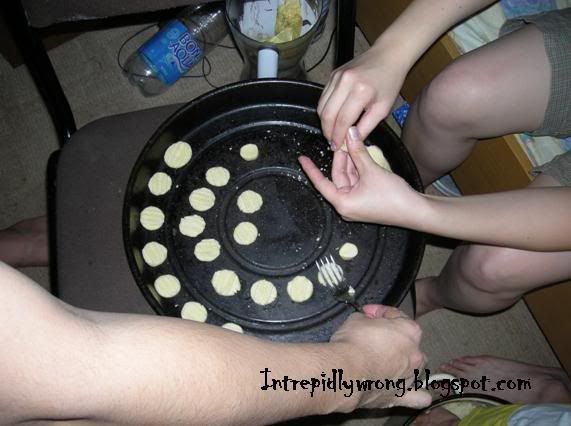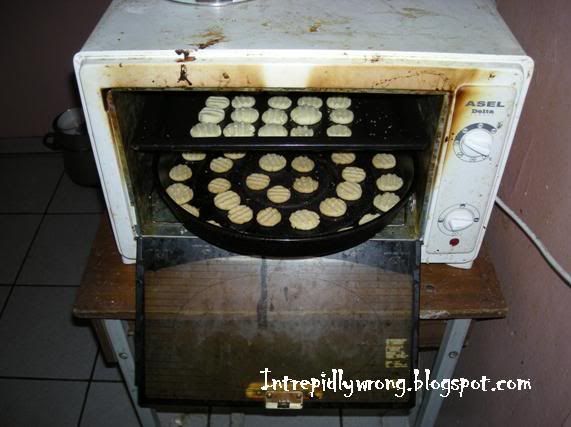 I really can't thank Eddy, Danielle and Yew Ching enough for their help. If it wasn't for them, I could have spent 10 more hours and still not be done with the kneading, the molding, the baking, the packaging and et cetera. From 830pm we started, paused a while at 12am to celebrate Yew Ching's birthday in my room, then continued baking some more. At the end, we managed to conjure up 26 packets of Butter cookies, sold at 15 rubles each packet (containing 12 cookies).
I didn't think that anybody would remember, what more to say request for more of my cookies. But people did. Already on wednesday I received a SMS asking wether I would be selling cookies this weekend, and by Saturday, 3 different students had done the same thing.
And then, after church mass, we sold the cookies- and yet again we sold off all 26 packets in minutes.
So far, we've collected from sales:
Burgers and Pizzas - 700 rubles
Cookies week 1 - 300 rubles
cookies week 2 - 400 rubles
Jane's Barbershop - 650 rubles
Collection during student's mass - 400 rubles
Total: - 2450 rubles, or RM340.
Next week, we'll be working twice as hard, selling not only cookies, but also hand-made christmas cards. Stay tuned!