This is another post that's long overdue. The Winter solstice festival, or dong zhi as we chinese call it, is one of the many major chinese celebrations, which is celebrated on the 22nd of December. In mainland China in the olden days this day mark the peak of winter, and usually it is a time when the families gather together and cherish each other.
During this festival, normally the family make a type of dessert called tang yuen, or glutinous rice balls. In the Chinese tradition, round normally signifies unity, and it symbolizes the unity and togetherness of the family. Anyway, for those of you who are interested to learn how to make some glutinous rice ball dessert, this is for you-
Balls, Lotsa Balls... (Glutinous Rice Balls- Wet and Dry Types) Recipe
Ingredients:
2 cups of Glutinous Rice Flour
2/3 cup of Cold water
Castor Sugar
Pandan Essence (Extract from screwpine leaves, or Pandanus amaryllifolius)
A few pieces of Sliced Ginger
Ground Peanut
Red/Green Colouring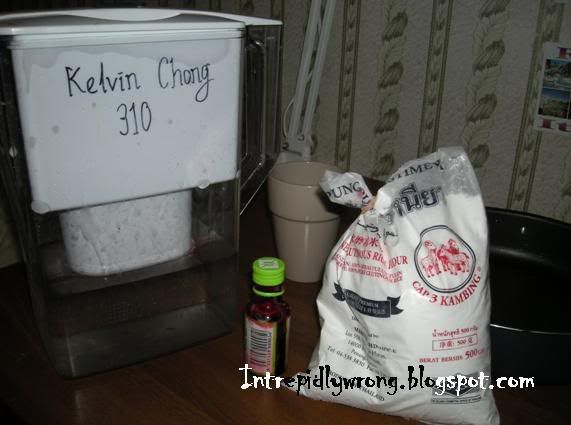 Steps:
1. Pour Glutinous Rice Flour into a bowl, and mix in cold water little by little each time, kneading it the whole time. Adjust the consistency until you achieve a smooth dough which doesn't stick to the fingers.
2. Divide the dough into little small portions and knead into small balls.
3. Other variants to glutinous rice balls includes adding some ground peanuts into the centre, and pinching the edges together to have some ground peanut fillings. Otherwise, you can 'trap' your family and friends, like me, by secretly hiding some WASABE PASTE into the rice balls, heehee!
4. You can add some colouring to the dough, giving it a more colourful appearance.
5. Boil water in a pot, add sugar and Pandan essence. A new suggestion by a friend was to add a few slices of ginger into the soup, which takes away the floury taste from the soup.
6. Throw the balls into the boiling soup. It takes only a few minutes before the balls are cooked. When all the balls are cooked, they float to the top.
7. You may serve either in bowls with the soup, piping hot (wet type) . Or drain the balls, and mix them in a mixture of ground peanuts and castor sugar, which serves better chilled (dry type).
The best thing about doing little desserts like this is the interaction that you have during the whole process. The laughter, the chit-chat, the hearty conversations are as important as any part of this recipe. So do it together with your friends/families!