Foreword: In the spirit of C. S. Lewis' story books this holiday season, I'll be naming my post after the Wardrobe, the Lion, and the Witch…
24th December, 2007
1am- Woke up groggily, thought- 'wait a minute, where am I, how come the room's shrouded in total darkness? Wasn't I supposed to be studying for my replacement class?'
In an attempt to 'catch a shut eye' for a few minutes, I instead dozed off for 3 hours… Oh heck, just sleep on…
8.50 am- Arrived in class, today's the first day of Gynecology rotation. We're having the inaptly dubbed Angel-of-Love (her surname's Angelova) teaching us for this rotation, a known maniacal lecturer who goes crazy at least once every week and threatens to fail all of her students in the class, only to take back her words at the end of rotation when bribed with a box of chocolate.
9.30 am- The love angel left each of us with a sonogram, a temperature chart, an X-ray and a hysterosalpingogram, then disappeared.
10.00 am- Finished the tasks, waited patiently for the angel to return…
10.30 am- Still awaiting patiently for the return of the angel…
11.00 am- This is too much! She's been gone for at least an hour and a half, maybe she's forgotten about us?
11.30 am- She returns… After 2 hours. She hasn't forgotten about us at all!
1 pm- class ends, through a random game of oooo-pet (Malaysian version of Rock-Paper-Scissors), it was decided that I would be the one to bribe her, which I did, with a sweet smile and a 'Merry Christmas!' wish and a box of chocolate in my hands, wishing her a happy Merry Christmas and asking her for a holiday for tomorrow (Russian do not celebrate Christmas, meaning that 25th of Christmas by right is a working day- the grinch that is Russia!)
1.05 pm- Excelsior! Success! Holiday Granted!
1.45pm- Reached the city! Went shopping with Teo in the Market for stuffs for tonight's last minute Christmas Eve dinner plans + mousetrap for the mouse running a-scoundrel in their room, giving both him and eddy (his roommate) one sleepless night.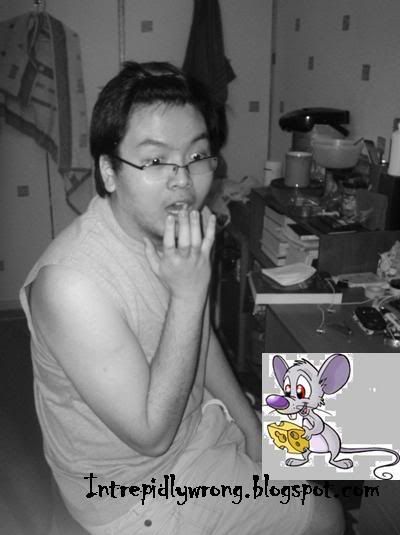 4.30pm – Start gathering stuffs to cook.
4.45pm – While borrowing a table from the study room on 1st floor, bumped into Bernard. Halt! Thou Shalt go nowhere but to my Christmas eve dinner! He promptly refused, saying how 'pai seh' he felt.
4.55pm – Decided to use my hypnotistic power of persuasion. Sent an SMS to Bernard- 'Thou Shalt come to my Christmas eve dinner' to which he replied 'Ok... Fine...'
5pm – Eddy, Bernard and Yew Ching all appeared, in full force, to help peel potatoes, boil spaghettis, fry onions, marinate the chicken, slice the mushrooms, wash the cabbages, etc…
6pm- the time I'm supposed to have dinner, since the Christmas Eve mass was to be held at 8pm. I'm no near to finishing my cooking, what to do???
6.30pm- Eddy's rushing me- 'Hurry up! It's getting late!'
7pm- I just realized, It's too late by now to get changed to go to the Christmas eve mass… with a sad face (and a sadder heart) I decided to finally not go (again) to this year's Christmas eve mass in church...
7.15pm- Everybody who's attending the Christmas Eve Mass has left... and I've finised cooking. Oh well! Menu today-
Roasted Chicken, Stuffed with mased potatoe and champignon mushroom
Mashed Potatoe
Champignon mushroom, stuffed with diced boiled eggs
Spaghetti with bolognese gravy
Coleslaw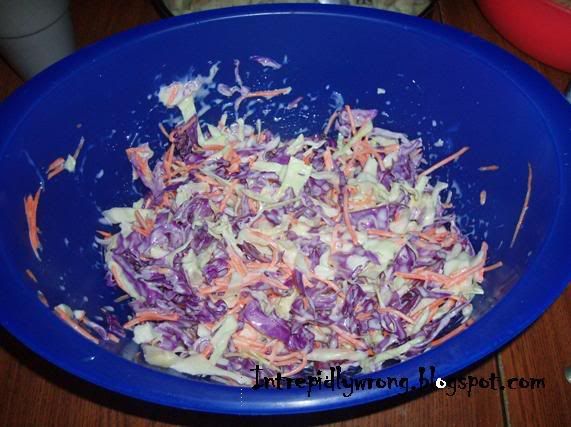 and for dessert- Pumpkin Pie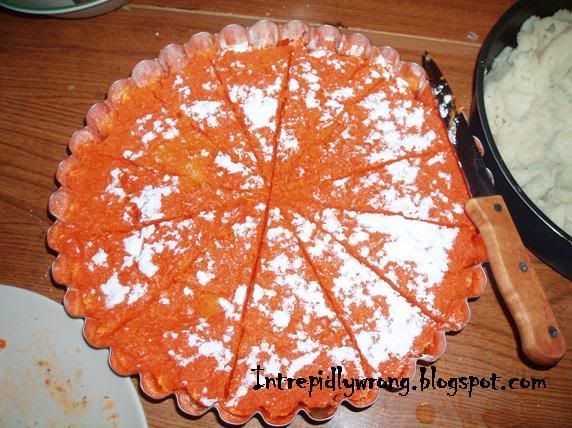 Here's us guys celebrating
Here's Yew Ching posing with my Christmas tree, with the dishes on the table
8.30pm- Dinner finished.
9pm- went to Teo's room to check out the traps he laid out for the mouse. Poor thing...
9.15pm- Headed to 1st floor, threw my clothes into the washing machine and set it to wash.
9.30pm- Sandra appeared, asking me to head down to 1st floor for a Christmas carol from the WCCI church. Santa Claus made an appearance!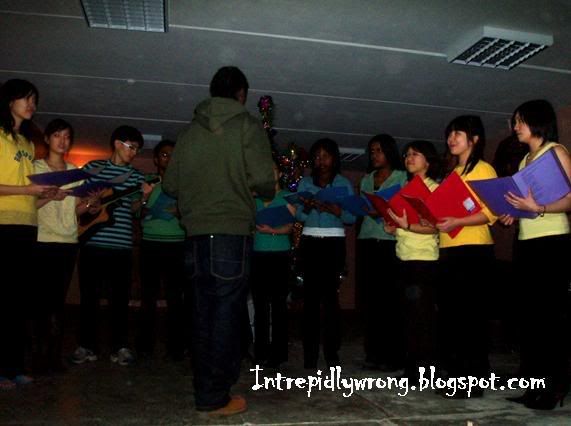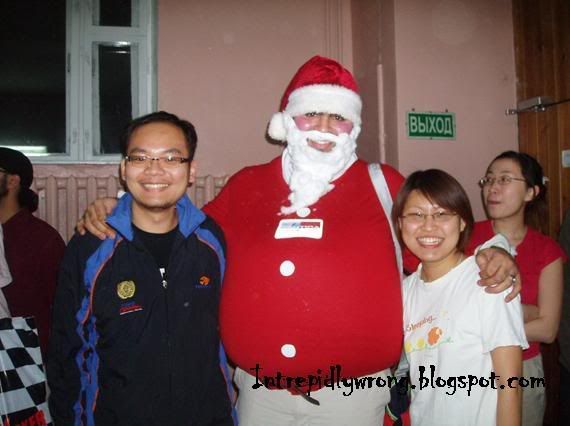 At least I got to experience some Christmas spirit!
11pm- Eddy came in to my room, confirming my worst fears that the Christmas Eve Mass was a kick-ass one...
11.15pm- Koh Siang, my roommate, return, confirming my worst fear once more that I missed out on one kick-ass Christmas eve mass... Oh my heart!
25th December- Merry Christmas, y'all!
12am- Went over to Sakthis' room for his birthday celebration now. Ate some cake, drank some coke.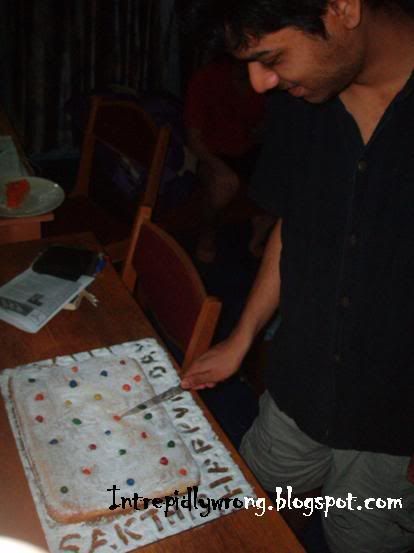 12.30am- Boiled a pot of water, had Boon Juan, Benedict and Yew Ching over, to drink some left-over Glutinous Rice Ball (Remainder from yesterday, moulded but unboiled). Tried Boon Juan's suggestion of adding some ginger into the soup, on top of some Pandan Essence and sugar. The mixture of which was really great!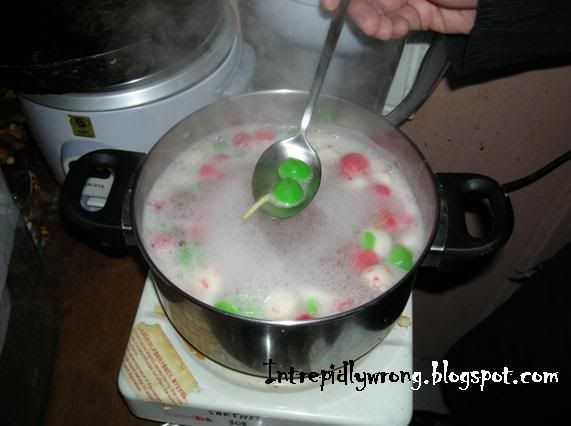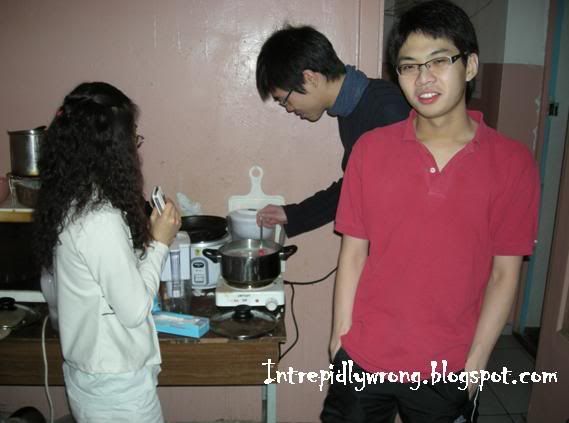 12.45am- Chit Chat in my bedroom while having Glutinous Rice Ball soup.
1am- Finally! Time to Shower!
1.15am- Dry my clothes.
1.30am- My long awaited time for myself- Movie Time. A movie I've reserved for a special occasion- The Bourne Ultimatum. Good Night and a Merry Christmas to all of you!