I think there is no better way to start off the New Year than with an uplifting and cheerful post. Yesterday's unfortunate incident left many a people shaken and traumatized, but all's well now. The Malaysian student here are doing well, even the 3 remaining students in Tula are on their way back to Kursk, after the Malaysian Embassy sent their delegates to transport them safely from that city.
I visited my cousin this morning and brought over some chicken porridge (a typical Chinese diet regime after injuries/sickness). He's recovering and I brought some movies over for him to spend some time. He decided to stay on in Kursk for his 3 weeks of holiday, and then after the examination will decide again wether to return to Malaysia or not. Otherwise he's fine, except suffering some body ache and neck ache. Also although he managed to take pull his laptop out from the flaming van, the LCD monitor was totally damaged and the laptop currently cannot be used.
But onto today's post. As you can read previous posts to this series from the following links (parts
4 here
,
3 here
,
2 here
and
1 here
), a small group of Malaysian students here in Kursk came together to organize a Charity Drive during this Christmas season. As you can read in my previous posts, we met with lots of obstacles along the way, but by God's grace, everything was resolved and the whole charity drive can be described as nothing but a huge success. From barely anything, we managed to scrape together a huge sum of money, a sponsorship, as well as other forms of donations for the less fortunate people here in Kursk. Anyway, I can summarize the whole event in the following:
Winter Charity Drive 2008Total Amount Collected by 1st January 2008:
Jane's Barbershop: 1390 rubles
Sales of Christmas Cards + Church Donation: 2020 rubles
Sales of Butter Cookies: 700 rubles
Sales of Pizzas and Burgers: 700 rubles
____________________________________________________________
Total: 4890 rubles
So in the space of 2 months, we managed to collect nearly 5 thousand rubles (RM 680) worth of donation, plus tonnes of donated clothes and other items. And I did feel that God led us every step of the way, and like I said before, this whole process was a blessing in so many ways, for all of us.
As you can see here, parallely to our effort to collect money, we also reached out to the student community for donations of unused clothes, blankets, pillows and other items. We were overwhelmed with their response. For weeks my room had been congested with plastic bags of items and finally, on the 23rd December, we ordered a taxi to transport all the donated items to church.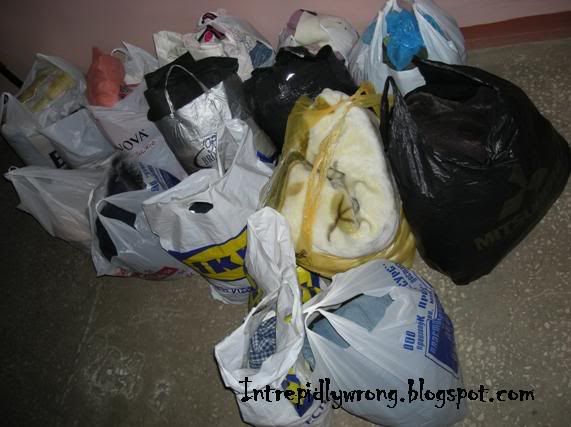 The tiny hand in the last picture belonged to Jane, who nearly drowned under the heaps on cloth!
When stacked up together, they reach almost to Jane's height. All the donated clothes were sent to an Home for the Elderly in Kursk. Last Sunday in Church the sister thanked me, and asked me to say thank you to the rest of the students for their generosity.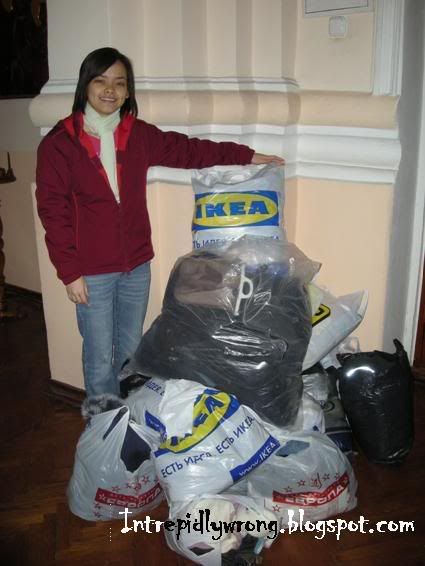 But that wasn't all, items like shoes, sport shoes, boots, toys, gloves and scarves (too little for adults), soft toys, teddy bears and some toys, I kept under my table to be donated to the orphanage along with out visit later-
If you read my previous post about the
pre-visit to the orphanage,
, you would have read that the caretakers of the orphanage told us the children would appreaciate gifts like badminton rackets, badminton shuttle cocks, ping pong bats and ping pong balls, skipping ropes, maybe footballs and basketballs, and other games which involve team effort and interaction, which was exactly what I got for them. A little bargaining in the market nearby and I managed to purchase this for them-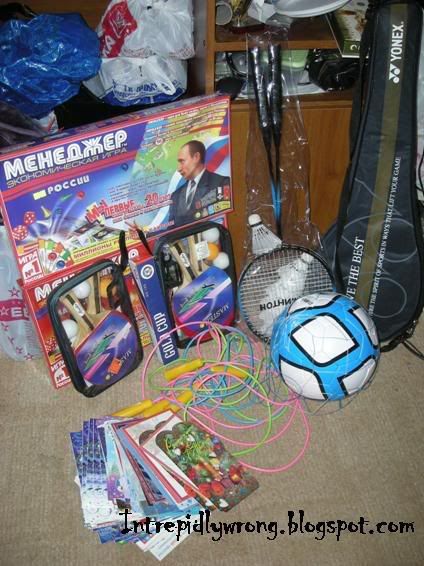 I spent a total of 1300 for the sport items and monopoly game set, and another 1000 rubles for the Christmas cards for each of the child (10 rubles a piece for 100 children), and another 1100 rubles will be spent for the van to transport the students and presents there, so that leaves us about a thousand rubles in excess. I will decide with my friends on what to do with the money, either we purchase some books and other toy sets for the children, or we will keep it and use it in our next visit to the orphanage. Either way, the money will be spent for a good reason!
I also need to mention about our sponsor, from Evropa the department store, I was asked to give him a call tomorrow to confirm on what to be expected, and the manager so far promised to donate condiments and sweets, as well as some items for the children.
Right now, we're in our final stages of planning for this visit. So far a few performances are already confirmed and one thing for sure, I know that the orphans will enjoy this visit from us as much as we will enjoy their company.
(to be continued on 3rd January, 2008)