Last Tuesday, I travelled about half an hour from the city centre to turn up and support some of our Malaysian students here in Kursk, who took part in this 'Student SpringFest Talent Competition' or 'Фестиваль Студентическая Весна'.
If you remembered, I mentioned here during this
Chinese New Year Concert
that we had in Kursk- the Vice Dean of Foreign Relations who attended the event was very impressed with some of the performances, particularly with the 3-member girl band (comprising of Ariel, Pek Jinn and Audrey) and the newly formed 9-piece Musical Orchestra/Band Dragon 9. She then invited them to the said talent competition, where (apparently) the best talents from all over the city gather to showcase their singing and musical capabilities.
I thought I was in for maybe something like American Idol- one marvel of a singing performance followed by another, but BOY was I way wrong!
The whole 5 hours I sat there, you would have thought I was attending a Heavy Metal, Head-Banging, Pot_and-Pans-a-Clanging, Hardcore Rock n' Roll Concert. Aside from the students from our University and maybe one other act, the rest of performances that day were one and the same- hard rocking, heavy metal performances. There were quite a few surprising talents though in Kursk, it seems. One band for example, blew me away, a 3-piece band that named themselves 'Still', which played a music which I can only describe as alternative rock. Kind of something like the band Coldplay or Incubus would play. In fact, until this day (3 days after the concert) I still have their music ringing in my head.
But I can tell you one thing, the students of our University did particularly well, I arrived just as Ariel, Pek Jinn and Audrey took the stage to perform Lydia, the Taiwanese Hit Song made popular by F.I.R.
Here's a clip of them performing on the night of the Chinese New Year Concert.
They were then followed by Dragon 9, who performed 'Qi Ji' or miracle.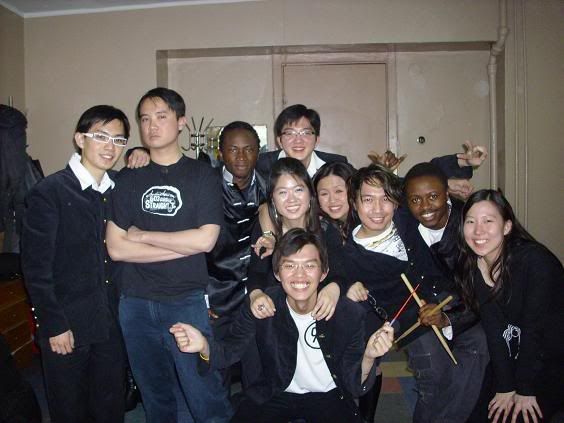 Here's the clip of them performing during the night of Chinese New Year.
While here's the clip of them performing 'Blue Dragon', the OST of Team Medical Dragon, a popular Japanese Medical series, during the SpringFest.
It may be biased, but in my honest opinion, our students were just flat out the best during the competition. Some of the other acts were also rather impressive, and then there were those who were scary to witness... There was this one act, for example, what I can only describe as 'Goth-rock'? In full gothic attires, the girls with dark, black make up and the men with leather jackets or in one case- fish nets and a leather corset! One other band named 'One Second to Death' was a typical Kurt Cobain era teenage angst and anger filled band, only thing was they are way past their teens... In fact they were University students...
Alas, even though me and Ming wanted to stay till the end of the concert, there was only so much rock n' roll that you can take. I left at 6.30pm with a headache, a ringing ear drum and feeling roughly like I've been hit by a train...
But like I predicted, our students not only won the competition, they clean-sweeped the top spots! And mind you there were 30 performances that day! Congratulations to the winners!
First Place- Dragon 9
Second Place- Hemoglobin (A Russian band from our university, winners of the same competition the previous year)
Third Place- Ariel, Pek Jinn, Audrey