Malacca is a town located 2.5 hours away from Kuala Lumpur. It is known as the historical state of Malaysia, being the place where essentially the sultanate of Malaysia began. As one point in time, it was one of the busiest port in this region, connecting the east with the west, not unlike how Singapore and Hong Kong is at the moment. Having being colonized by Dutch and Portugese, and been visited by the Chinese in the olden days, the buildings in Malacca can be seen as having influenced by all these different cultures.
Anyway, we supposedly should have left by early morning, supposedly 8am. But by the time we woke up, dilly-dallied around, showered and left, the clock pointed 10am.
The journey took 2.5 hours. Having skipped breakfast, upon arrival, we immediately dashed to this infamous restaurant. Ask around and everyone will tell you-
The infamous A' Famosa Chicken Rice Balls Restaurant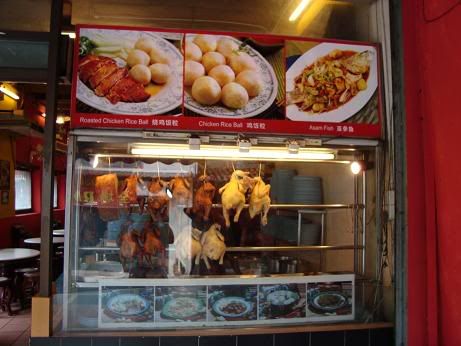 Anyway, we have friends studying with us over there in Kursk who has told us of this dish before. And having never really seen it with my own eyes, there were many a heated discussion on whether it should really be named as 'Chicken Rice Balls' or 'Chicken Ball Rice'. Because in both of this instances, they can mean different things. Chicken Rice ball would imply that you'll be served with rice balls together with chicken. Whilst Chicken ball rice means that you'll have rice served with Chicken balls (whatever that means?!?!).
Alas it seems the former holds true. You're served rice balls with chicken. We ordered the original rice balls and glutinous rice balls, just to try it out. Everyone visiting Malacca should give it a try.
Next up, we took out time walking along Jonker street, this area in Malacca known for its well preserved shop houses.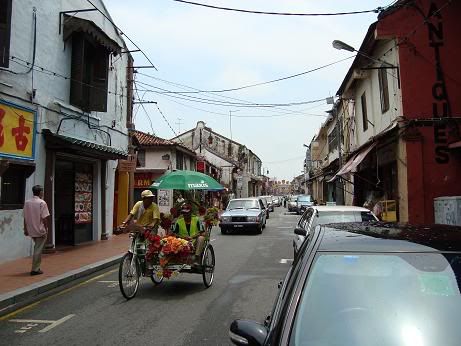 A richshaw ching-a-chinging by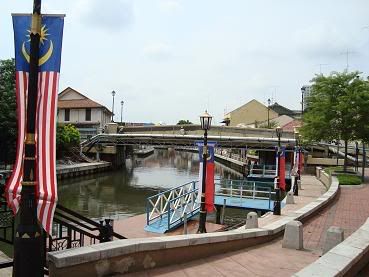 If it weren't for the Malaysian flags, would you have mistaken this sight for just another canal somewhere in Amsterdam?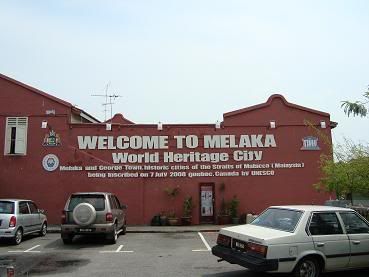 As of July this year, Malacca has been listed as a prominent World Heritage Site of UNESCO.
Some of the highlights of Malacca include-
A row of shophouses famously knowned as Hung Uk, or 'Red Houses'
St Paul's Church, from where you can catch a bird's eye view of the Malacca city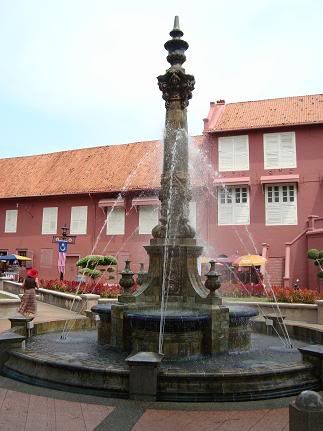 Studhuys Square with a fountain
Christ Church, Malacca, constructed in the 1700's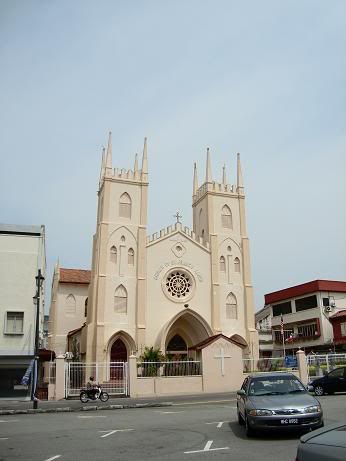 Church of St Francis Xavier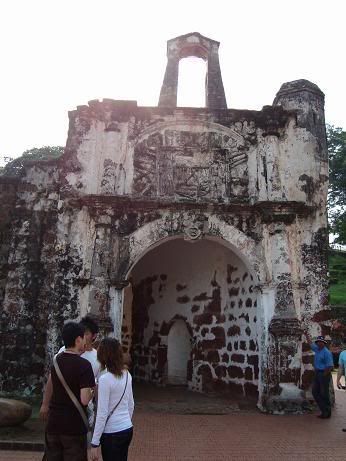 And A' Famosa fort, built hundreds of years ago by the Portugese. Now it's a site that's visited by millions of travellers.
If you do visit Malacca, there's another delicacy you must try. Cendols are popular in Malaysia. They are basically a dessert consisting of shaved ice served with boiled red beans, green starched noodles, enjoyed together with flavourings like coconut milk and palm sugar. In Malacca, though, you can enjoy a different variety of cendol, aptly named 'Durian' cendol, it is served with Durian flavouring.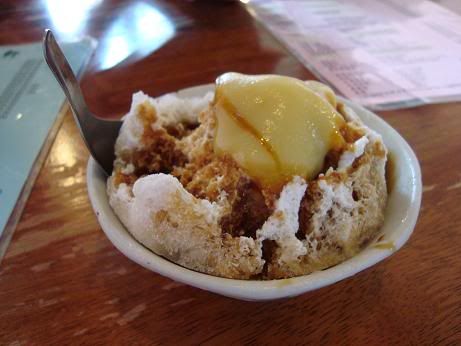 Many people have commented on how strong and pungent Durian smells, to the point where it is overbearing. However, true to the saying a man's trash is another's treasure, true-blooded Malaysians like me can't live without it.
We had our durian cendol at this shop, which emits this old-school feel. And the most special thing about this is the tables used are actually parts of an old sewing machine.
Let's ask our experts on their take on the Durian cendol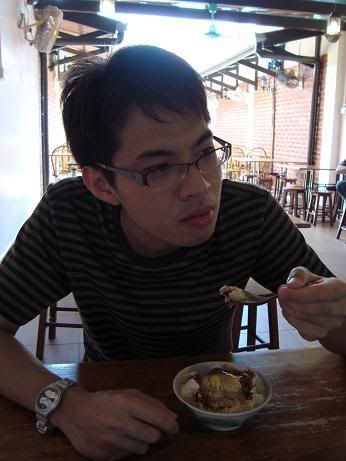 (Benny takes a mouthful)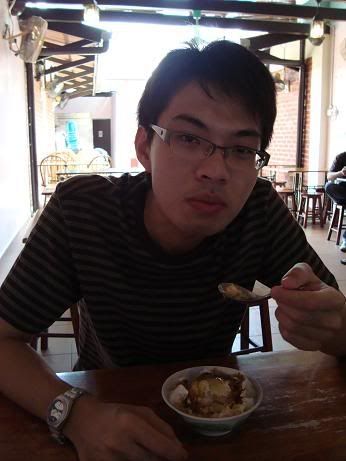 Hrm... Not bad at all, not bad at all...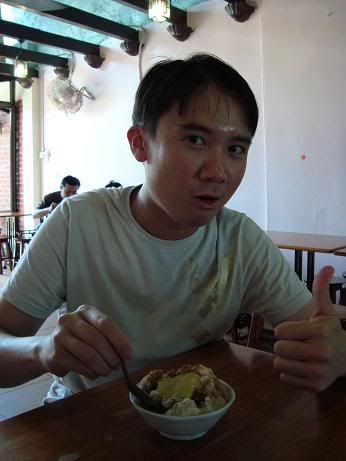 Ming was more generous with the review- thumbs up!
While asking for directions, we had an interesting encounter with this lady at the petrol station there. Before we knew it, we had converse with her for the past hour about all things including our studies in Russia, our career choices, her life as a mother, et cetera et cetera.
One thing about Malacca though, having being enlisted as a city in the UNESCO list, I would have thought that the locals would be a little more... polite? A little more tourist-friendly, maybe? As I was about to cross this road towards the Studhuys square, as there were no pedestrian traffic light, I was waiting for the streams of cars to stop before crossing over. When I saw what seemed like a good chance for me to cross, not knowing much, I took my time walking across. Suddenly from about a few miles off I can see a car coming. It was speeding, speeding and before I know it, I had to leap across in order not to be knocked down. And the driver was what seemed like a middle aged woman! Would it have been that difficult to slow down your car to let a tourist cross the road?
But anyway, all too soon, it was time to ciao. All and all I felt it was a worthwhile travel. After all being a short distance away from Kuala Lumpur, I would recommend a trip to those planning to visit Malaysia.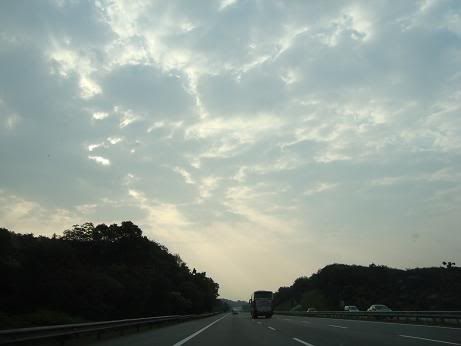 The journey back.