So this is the time of the year again, to finally make a decision- to embark on yet another European escapade (already my 3rd one) or to stay back and spend my Winter break in the hostel. For those of you who don't really know me. I will say that traveling would probably be my second passion, after cooking.
For the past couple of months, I was pretty indecisive. Initially I thought that I had only 2 weeks of holidays, which means that once again, in a short time, there's not really a lot of options of places that I can go to. Then all of a sudden there's a mad rush over here in Kursk, of students booking flight tickets here and there, to Barcelona, to Berlin, to Prague, to London, the list goes on and on.
I finally thought to myself- hrm… perhaps I should just take it slow this winter break and snuggle under my comforter.
Until this week, when I found out that instead of 2, due to our examination being held early, I have 3 weeks of holiday.
So in the space of 5 days I cooked up a plan, involving a few countries in the east and west Europe that I have still yet been to. And somehow I am extremely positive that my this year's Backpacking winter tour would be as ass-kickingly awesome as the last one.
But anyway, since I have never posted my previous travel report, here it is, to close off my bog for this week, a brief travel repertoire of my Winter 'Whirlwind' Tour 2006/7.
We started off a group of 9 close-knit friends, taking a train from Kursk to Moscow
We arrived in Moscow at 6 in the morning, to the busy din of a snow blizzard. In fact, we were extremely worried because flights after flights were either delayed or cancelled. But by the grace of God, after a short delay, we took off!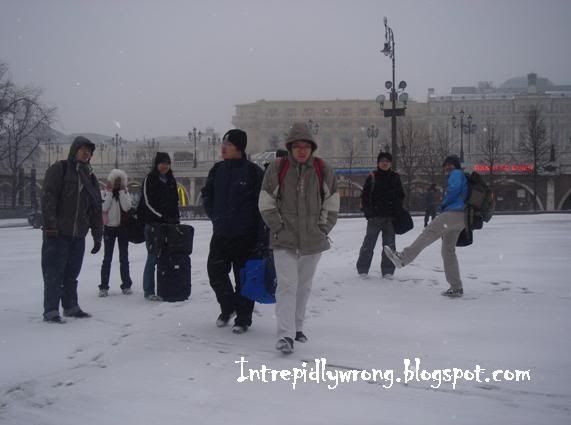 Using Air Berlin, we arrived in Tegel airport where we split into 2 groups, me, Shu Ngie and Eddy heading off to meet our Couchsurfing host, Tom, in his apartment in Friederichstrasse. Berlin was a lot of fun, you can even feel the hype in the air as you walk through the tourist sites; Alexanderplatz, KaDaWe (the second biggest shopping mall in europe), the Brandernburg Tor (Victory Gate), the Victory Column, Charlottenburg Castle, etc. We did lots of shopping and of course, ate lots of Germany's famous Hotdogs!
That night we took an overnight train to Brussels, Belgium, the land of abundant chocolate, fries and Tin Tin. The most symbolic icon of Belgium would be maneken pis, a little statue of a boy pissing into a basin. The story was told that this boy took a piss at a wick which was actually connected to dynamites intended to blast the city of Brussels. His innocent little act saved his city and the townspeople, of course.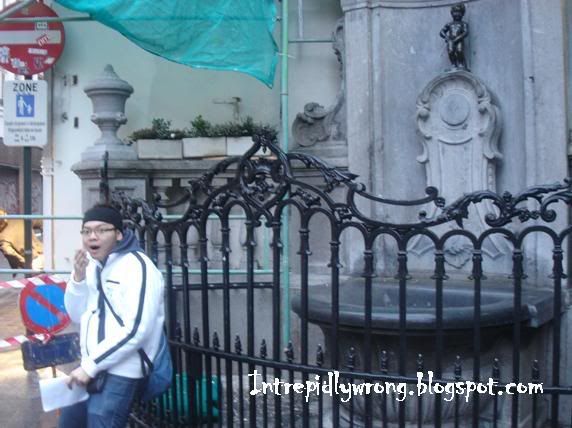 By noon, we were already on our way to Amsterdam, the sex capital of Europe. We arrived on a Sunday, and the streets were full with visitors wanting to spend their weekends here. We stopped by a coffeehouse, lit a joint and tasted some space cake.
Next up we took another overnight train, this time stopping by Luzerne, Switzerland. I can tell you from the moment I stepped out from the train station, I fell immediately in love. With the serene Lake Lucerne in the backdrop, surrounded by the rolling alpine peaks, and the whole city itself escaped unscathed during the major wars, meaning that medieval buildings and structures were all intact. And the people? Amazingly friendly! Our host, Martin invited us to Raclette, a meal of melted swiss cheese eaten together with pickles and steamed potatoes.
We also managed to take a steamer to Vitznau and Weggis, where we boarded the oldest steepest steam train on Europe to the Peak of Mount Rigi, the so called Queen of mountain. All and all, Lucerne was a delight and a dream come true for me, and I solemnly vowed to return once more to this picturesque, scenic town.
Next, on our way to Geneva, we paused by Montreux, the Swiss Riviera which contains one of the most popular and best-preserved castle to date, the Chateau de Chillon.
Geneva was our next stop, the smallest metropolitan in the world which is the melting pot for people of different nations, cultures and religions. And for the first time in my life, I got to experience the Swiss meal of Cheese fondue in its entirety. The Kimber Family (one part-Swiss, one part-American, one part-British and all-around wonderful people) were so nice to us we almost didn't want to leave Geneva.
One Easyjet flight later finds us in Rome, probably one of the most famous cities in the world. Endless sights like the Colosseum, the Roman Forum and Palatine Hill, Pantheon, Pizza Navona, Piazza di Spagna and the Spanish Steps, Fontana de Trevi, Castello San Angelo, and the list goes on and on. And the food? To die for! Pizzas as cheap as 1 euro of every variety you could possibly think of in the world! I thought I had indeed died and went to heaven!
Next stop on the whirlwind Europe Tour was Florence, the capital of Renaissance Art, with its endless museums and galleries in sight.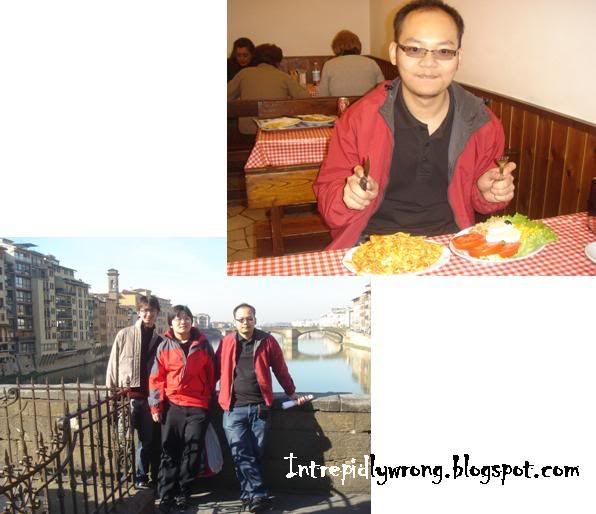 Pisa was next. Campo dei Miracidio (the fields of miracles), where the leaning tower was at, really lived up to it's name. With the shade of bluish-turquoise shade covering the sky and almost no cloud in sight, the view there was extremely unreal. And of course, nobody can pass on the opportunity to pose with the leaning tower. Here I'm hugging it with dear life, to stop it from toppling over.
Our next stop was Venice. We arrived on the 9th February, which was the Sunday before Carnavale, the festival where everyone dresses up in Venice, and parades on the streets. Lucky for us, we caught a glimpse of what the hype is all about too, cos' already people were colouring the streets in different outfits and costumes, and it was truly a sight to behold. For once in this trip, I tucked the copy of map that I have into my pocket, and walked blindly in the maze that is Venice. Endless twists and turns, little alleys and walkways is where the charm of venice really lies.
Of course, the visit to Piazza San Marco would not be complete without the 'feeding of the pidgeons'. All and all, Venice captured my heart and I have to say this was probably my second favourite city after Lucerne.
Dame Julie Andrew really knows what she meant when she sang 'the hills are alive with the sound of music...'. For in Salzburg, this appears to be true! The hometown of musical genius Mozart is a beautiful little town situated by the side of the Austrian alps. Here Eddy and Shu Ngie are reenacting a scene in the Mirabelle garden (the actual place that the movie was shot), acting as the von trapp family in the movie 'the Sound of Music'.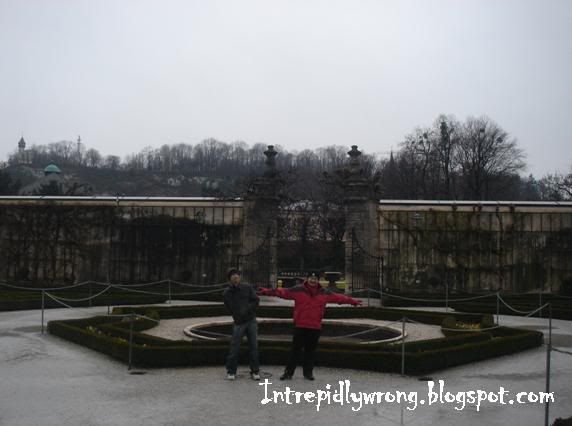 We then took a train and arrived in Vienna. Christine, our Couchsurfer host, took us out to experience the Viennese culture of Coffeehouse. And this concept of coffeehouse is totally different from that of Amsterdam's! Christine embodies what a couchsurfer really mean- vibrant, helpful, friendly, full of life and so much, so much more. Here were are with Elisabeth, a greek beauty, at a Couchsurfing party.
Our last leg of the tour was Stuttgart, a rising town in southern Germany, famed for its award-winning Mercedes-Benz and Porsche Museums. Needless to say, we slobbered so much while admiring the different car models that by the time we left the museums, we were badly dehydrated.
After 2 weeks in Europe, we got to see, experience, and indulge ourselves in so many new things that I felt like a totally different person when I reached Kursk. The people that I met, the food that I tasted, the stories that I heard, the knowledge that I gained, the friendship that were formed, the sights that I saw, were priceless. And I will not trade them for anything in this world (except maybe another ticket around the world! :p)
Now that I am about to embark on another trip, I can't help but to feel this rush of excitement. A premonition of good things to come?
How about you? How are you going to spend/spending your holidays?