Last sunday, we had our student mass. Normally every mass are conducted in Russian, but once every month, we have a student mass, where everything except the Sermon are in English. Our Parish Priest, father John from Poland, speaks very little English, therefore the sermons are still conducted in Russia.
However, last Sunday was an exception- we had a Priest, Father Peter, visit us from
Orel
, Russia!
Father Peter originates from Nigeria, he used to be a student in St. Petersburg, but return to serve as a Priest here in Russia. And I guess God really answered my prayers! Because he heard about a group of English-speaking students in our town and decided to drop by to conduct a mass in English- sermons, hymms, prayers, everything! And having not heard a sermon in english uttered for 3 whole months- my ears were as attentive as a hunting dog's. Not a single sentence escaped me.
All and all it was a very very blessed mass.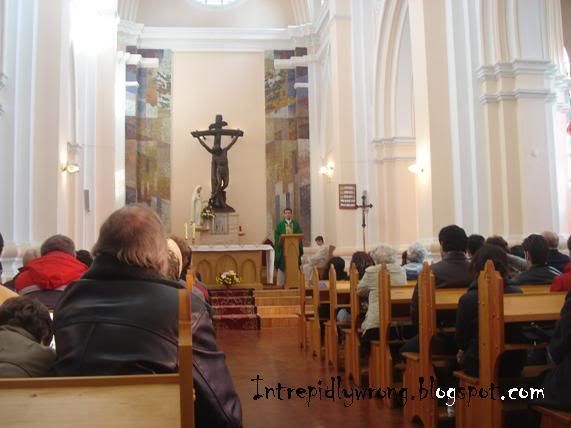 After the mass ended, we went to the Parish home and had a hearty conversation with him. He was absolutely delightful. All his experiences, from back home in Nigeria to here in Kursk, were remarkable. He himself mentioned that for the longest time he had wanted to conduct a mass in English, but back in Orel, the students speak a mixture of English, Portugal, French, Spanish and some other languages, that he had no choice but to conduct masses in Russian, kind of like a lungua franca. And us- we've been wanting to have a mass FULLY conducted in English- it was like a match made in heaven (Excuse the pun).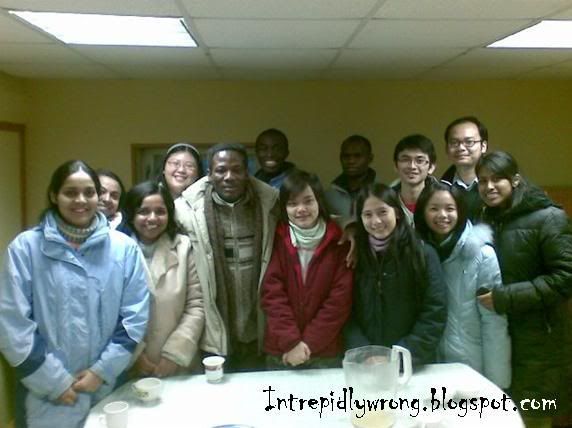 And though it didn't seem like it- he had the funniest jokes I've heard in a long time. When he started working in Russia, he was at first stationed in a town in the northern part of Russia, close to St. Petersburg called
Pskov
. It's a little secluded town without much influences from the outside world. And when he first arrived there, he was the first and only Black man.
Once a woman approached him and asked gustily, 'My, can you explain why you are so DARK?'
He answered earnestly, 'Maybe it's because I love eating Chocolate so much'.
To which the woman screamed, saying 'MAMA! I will NEVER ever eat another piece of Chocolate in my whole life'.
And during the whole time, he kept a straight face while telling the joke! We, of course, burst out laughing.
All too soon, it was time for him to catch his train back to his town. He extended his invitation for us to visit him in Orel. We, in return, invited him to visit us more often here in Kursk!