Fine, I admit it. I have never mastered the art that is
ironing
. No matter what I do, however much pressure I apply on the iron, however many time I squirt the shirt with water, the cloth stays wrinkled. But anyway, last Sunday was a special ocassion, one that I needed to attempt at ironing again-!
Here's a satin dhoti
And here's me trying it on
To put it on takes skills! You need to hold one end of the cloth, folding it back and forth 4 to 5 times, then slip it through your legs, then repeat it behind you then fold it back forward. The resulting piece is a spectacle to behold- Satin
dhoti
, a traditional indian attire that's beautiful and unique. But as you can see- It's not flattering on me at all. But luckily my neighbours are multinational, so from Sandhun's (a Sri Lankan) room I headed to Andi's (Sabahan Malay) room and asked to borrow his Sarung.
He suggested this style, which reminisce that of the olden days, of people wearing it in Kampung, especially at the fishing villages. But then at the end he suggested the method of 'Kain pelikat'.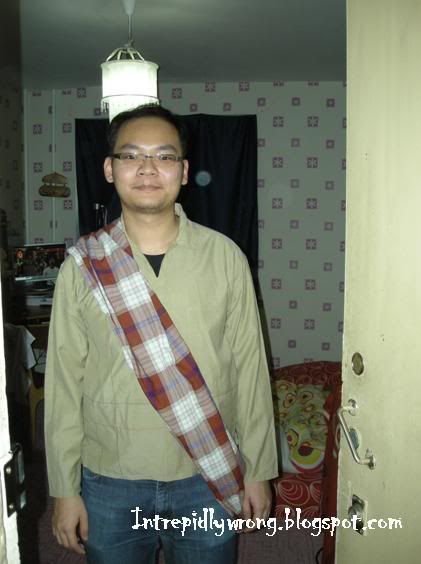 Anyway, the ocassion was Pastor Pamela Norris' birthday. She's a pastor from Texas who know preaches at a Church here in Kursk. She has been a big influence and has had played a huge role in the lives of many a Christian here, so the students of the church decided to throw her a grand 50-th birthday bash.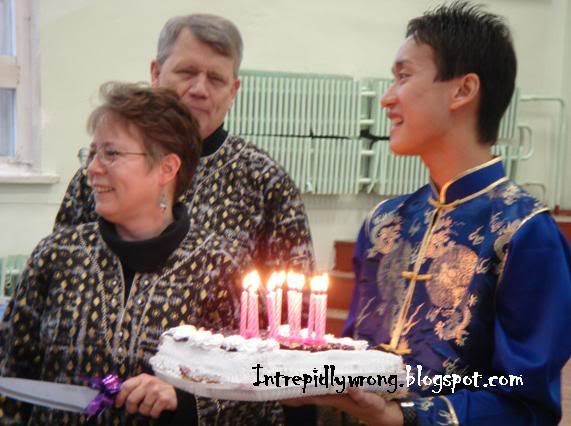 There were dances, dedications, slide shows as well as presents and well wishes for her.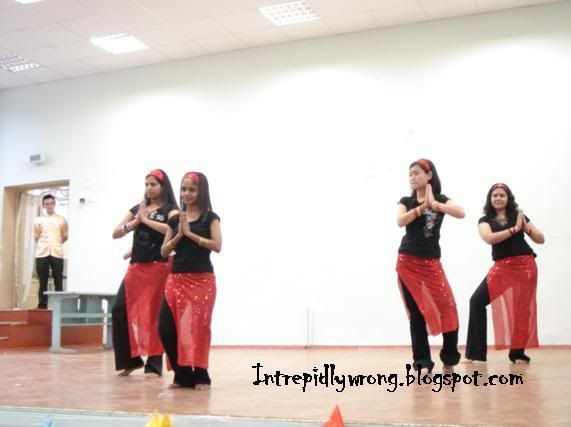 Including this one of my roommate doing some Wushu display.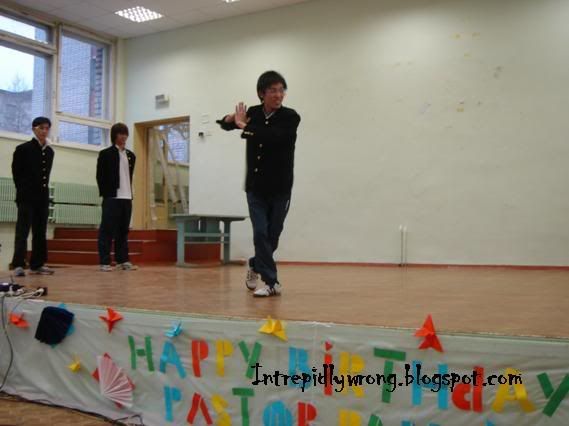 The food were great! It was a combination of different food indigenous to different students who are members of the church.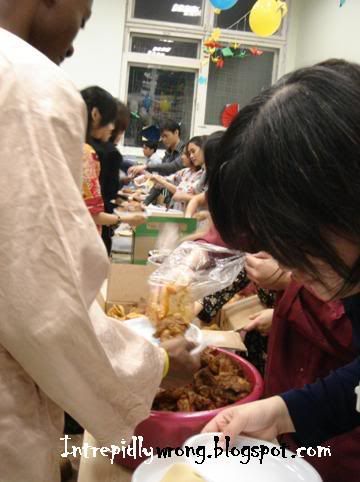 After dinner, there were lots of photo taking. Here's me with my friends and cell group mates.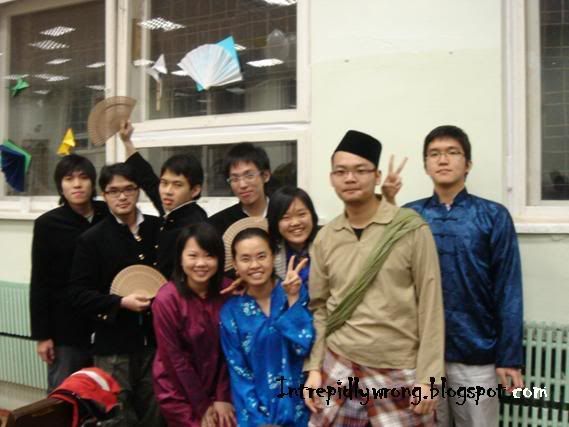 As you see the dress code of the day was traditional attires. I was the only guy who adorned a Malay attire, complete with Songkok, courtesy of my neighbour. Everybody was asking why I wore jeans under the sarong? YOU THINK??!?! The birthday party was quite a distance from my hostel, and me walking with only sarong in the negative whatever winter temperature? That sounds like a one shot castration to me...
And a huuuuuge group photo, with hundred over students in it. That's me jiggling when this shot was taken.
Happy Birthday Pam!