ex·press din·ner (ɪkˈsprɛs ˈdɪnər) –noun - A meal prepared by either lazy, burned out or bummed out 5th year medical students in haste that may lack in taste, flavour and/or nutrition values.
So for the past couple of days, what's with the charity drive, or just due to some laziness on my part, I've been cooking express meals. All I did was boil some water, throw in some pieces of meat, a few slices of cabbage, some seasoning, noodles, ocassionaly an egg, and voila! Your dose of express dinner. 5 to 10 minutes top. May not be the healthiest thing in the world but hey~ What's a guy to complain right?
Anyway, tonight, I thought I ought to cook myself up a treat. So I decided to do something special. Add something extra to my dinner, spice things up a little, so this is what I did:
Mutton Lamb served with baked potatoes, slices of tomatoes and olives
All I did was marinate the mutton with rosemary, paprika, garlic powder, a dash of curry powder, some mustard and soy sauce. After a few hours, I baked it in a 180 degrees oven for an hour and a half (an hour covered with foil, the next half without), ocassionaly spreading butter and honey on top of the mutton.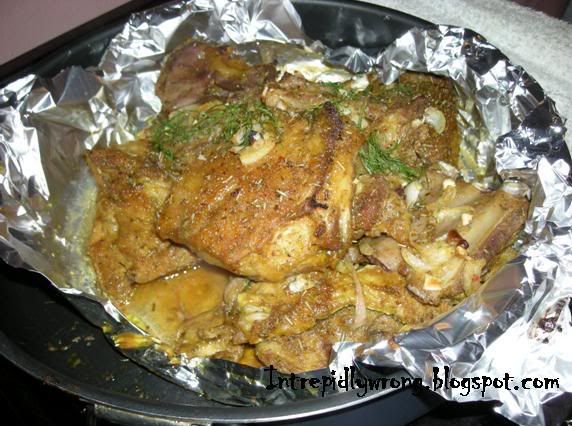 And then serve it with some baked potatoes, slices of fresh garden tomatoes and olives.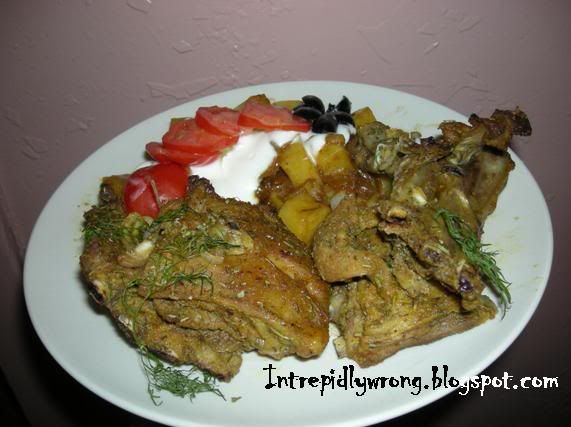 It was like heaven!